What does this information mean?
There is a solo version of this instance even if the Journal says it is Heroic.
You must be level 98 to enter. (Solo can be entered at 95; Advanced Solo requires 98.)
Gather 12 evidence of Far Seas Traders in Brokenskull Bay: Bilgewater Falls (Solo) (Heroic Instance gives no questupdates!). Zone-in is a raft at the bay east of the village on the northeast shore ( 290, 6, -916 ) 

/waypoint 289.77, 5.84, -915.89

. These are body drops from chests of booty and Brokenskull pirate lookouts.
Find a living Far Seas trader in there. This is Pella Saltbreeze at ( 43, 130, -272 ) 

/waypoint 43, 130, -272

. She's surrounded by a group of pirates; as you approach she kills them all. Unfortunately, to get to her you will have to kill several of the nameds as you walk directly past them. She is located on the very top area of the zone which means walking right past Captain Bilgewater. Luckily even if you kill all the nameds first, the quest will still update.
Talk to her for the update.
Search for the important pirate object.

Clear four named: Barnacle Bitterman at ( -2, 14, -63 ) 

/waypoint -2.32, 13.97, -62.78

, Navigator Deron Cutthroat ( 59, 77, -214 ) 

/waypoint 59.35, 76.63, -214

, Lady Bipsie (Solo) ( 50, 104, 21 ) 

/waypoint 50.23, 103.96, 20.80

, Smooth-Talkin Duncan Togglecog ( -27, 123, -281 ) 

/waypoint -27.04, 123.07, -280.71

.
For this, kill Captain Berlon Bilgewater (solo) at ( 113, 145, -362 ) 

/waypoint 112.86, 145.12, -362

.You'll have to clear the other four named in the zone to spawn him. The solo version of Captain Bilgewater only summons a skeletal add occasionally. Once he's dead, loot a Magical Treasure Chest Key from his body.

NOTE: It is possible to loot the key before you can use it, but the treasure chest will not sparkle until your quest is on the correct step.

Return to the forge room ( -29, 121, -243 ) 

/waypoint -29, 121, -243

, and use the key on the sparkling treasure chest. It will teleport you into a hidden treasure cove. Click on the vase to receive Ancient Arcane Artifact. Note: the forge room is at the very top right where you stepped out onto the top of the falls.

Investigate the artifact (examine it from your inventory)
Fight an Agent of Qeynos (evil-aligned) or an Agent of Freeport (good-aligned) - when it drops to 15% health it runs away with the artifact.
Zone back to Tranquil Sea and speak to Karrabukk the Elder. ( 929, 13, -1009 ) 

/waypoint 929, 13, -1009

Talk to Pella Saltbreeze on board of the ship at ( 1247, 8, -545 ) 

/waypoint 1247, 8, -545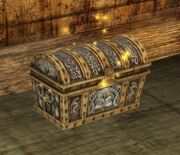 Community content is available under
CC-BY-SA
unless otherwise noted.