Collection Quest Information
This quest is part of the Collection Quests Timeline
Starting the Collection
Most Collection Quests begin by examining any of the members of that collection, which are harvested from special, random ground spawning nodes using the Collecting harvesting skill. Members of this collection can be found as follows:
Rewards from other collections
Collection Members
Emerald Shard of Amenophas Golden Scarabs
Burial Mask of Amenophas Glowing Runes
Ruby Shard of Amenophas Gems of Ketahn Akh Sul
Golden Claw of Amenophas Canopic Jars
Lapis Lazuli Shard of Amenophas Mummified Food
Rewards
Special Notes
Note: Once this collection is turned in, return to Silent City: The Delving Dead, and speak with Dianina Onjes at ( 129, 30, 204 ) /waypoint 129, 30, 204 to receive Delver of the Dead.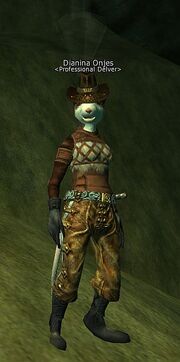 The members of this collection are rewards from the following other collections:
Community content is available under
CC-BY-SA
unless otherwise noted.