Naming
Although SoE has no "official" name for this signature questline, we use "Shades of Drinal" because the main quests start with it. If some of the following is not clear, ZZAM has additional information on this same timeline. Note: "Drinals Steward" can also refer to a "Whisper Column" which can spawn in multiple locations.
Requirements
you must be a lvl92 adventurer
you must have completed Unexpected Consequences
you must have purchased the Chains of Eternity Expansion
Quests
Use the looted key to open the chest in the boss's room at -13, 34, -102 Go down one flight and head all the way west and turn immediately right. Click on the tablet in the corner at 10, 26, -93. Then if you have the moxie, kill Tempest, click on the column, kill Zordakalicus.
hail Firiona Vie at the docks, return to Drinal's Steward

Shades of Drinal: Fate's Crusade (96)

Drinal's Steward or Whisper Column, use portal, click god's maw
recruit mercenary Oligar, use portal
fight Drinal below 90%, use Soul Skiver on him
hail Drinal, return to Drinal's Steward
Final Rewards
access to instances in Chains of Eternity Expansion:
Class specific cloak
Drinal's Steward near tourbillion turns into a faction merchant selling equipment for CoE instance shards
use of Obol Plains druid ring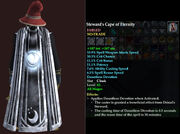 Info
this quest line shows the requirement to follow the signature (zone access) for more detailed infos use the quest links, all other sidequests can be found in
Credits
| | |
| --- | --- |
| | EQ2i credits EQ2 ZAM for some of the info in this article. |
Community content is available under
CC-BY-SA
unless otherwise noted.