What does this information mean?
Go to the docks ( 67, 13, 962 ) 

/waypoint 67, 13, 962

and enter the instance: The Dreadcutter [Advanced Solo]

Work your way north through the ship to the captain.
Kill Captain Goldjaw
Loot the Sea Chest Key from his body
Loot chest in his room at ( -13, 34, -102 ) 

/waypoint -13, 34, -102

to obtain the Soul Skiver
Click monolith (which is about the same size as a book) at ( 10, 26, -94 ) 

/waypoint 10, 26, -94

. This is in a room on the deck immediately below the captain's quarters, where the cannonballs are located. Look in the corner by the door.
Find a safe spot for the monolith

Zone out using the disc-like portal at the start of the zone
Talk to Firiona Vie (Obol Plains) at ( 87, 13, 924 ) 

/waypoint 87, 13, 924

on the dock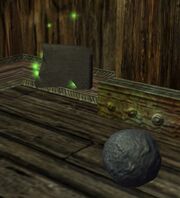 2. Speak to Drinal's Steward or a Drinalian Whisper Column
Community content is available under
CC-BY-SA
unless otherwise noted.