You may upload a JPG or PNG image of the in-game examine window.
EverQuest II Item Information
\aITEM 2023535063 72327827:Seeress Ealaynya Ithis's Prophecies: Book Two\/a \aITEM 2023535063 72327827:Seeress Ealaynya Ithis's Prophecies: Book Two\/a
What does this information mean? This was transcribed exactly as it is in game, casing and typos included
Book Text
Seeress Ealaynya Ithis's Prophecies: Book Two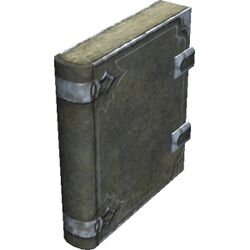 | | |
| --- | --- |
| Author: | Ealaynya Ithis |
| Style: | Light Brown Book |
| Pages: | 6 |
| Series: | Epic |
| LootDB Link: | LootDB |
Seeress Ealaynya Ithis's Prophecies Book Two
I, Ealaynya Ithis, Seeress, Shepherd and Prophet to the most selfless of the supreme deities, Rodcet Nife, have been blessed with further visions of fate, although my sight has become hazy. I believe that what I have seen is still in a state of change, as if possibilities are becoming entangled somehow. While I am compelled to put these words to paper, I am reluctant to reveal them, lest they somehow affect what is to come.
If you are reading this, then I believe the entangled future is now your fixed past, and you have reached these lands in spite of the great perils before you. Maybe then, these words will provide a boon to you.

Living spirits cross the veil, witnessing panic among the dead. Lands beyond shudder and tear as the Hand and the Gauntlet fight for control of the Moon Release the Moon from its torment, lest death succumb to darkness.
The King protects the Blind, and the crown will be broken. The Castles, once tall, will split. The eyes of destiny have opened, but the hour is late. All must look to the sentinel, and close the shattered gate behind him.
Victory is cold, and the Castles awaken the sleeping islands. An ancient deception is revealed but the key is empty, hidden within a dream. Choose the child or the key, and close the ancient door.
Malice seeks the last breath of ancient gods etched upon a broken stone. The light and the Dark seek the root, broken and exposed. Nature unbalanced at the hand of Malice. The shards are separated by earth and sky, but Malice will cross both to claim them. The Light will lead Malice, which hides in the shadow.
The enervated must become whole again, if Malice is to falter. Temper the spiritual mind with the flames of the weaponsmith's forge.
The gray mouths of fear whisper of the flames of the first children.
Enemies incensed unlock the sands of time for The Ungod
The living dead can see the vessel the emerald spirits have hidden.
Moltor's hand will grip the Dog Lord's blade.
Community content is available under
CC-BY-SA
unless otherwise noted.