What does this information mean?
Prerequisites
Edit
This heroic quest is part 14 of the Claymore Timeline. You must have completed the previous steps to begin this one.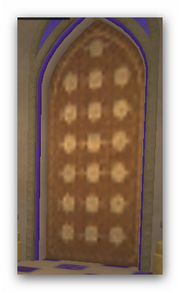 Read the book.

The quest tells you : "The pages of Salutations shall not be released until the ilk has been tamed. This is done by harvesting books in the foyer/main hallway of the Palace of the Awakened, which is on the Isle of Awakening in Barren Sky. Enter the Palace, and on your left you will see a chair with the book "Salutations of Naar'Yora." Click on/inspect book and it will give you the quest.

Harvest the five books in the Spiroc Foyer.

The quest will tell you to get the "ilks," which are various books that spawn on the floor in the hallway north of the entrance, called "The Walk of Flights." You can harvest all the books along this hallway, and one in the little room to the west of the Walk of Flights.
The ilks:(hint: it's strongly recommended one player harvests all 5 at a time)

a salutations book
a salutations codex
a salutations primer
a salutations booklet
a salutations folio

Return to the original book, Salutations of Naar'Yora and read it again, this time writing your name in the book.
Community content is available under
CC-BY-SA
unless otherwise noted.