What does this information mean?
Prerequisites
[
]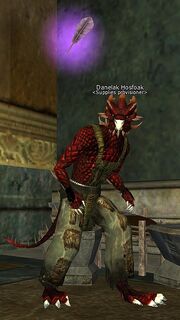 Characters that are low-adventure in their level must complete New Lands, New Profits or they will be kill on sight (KoS) to the residents of Bathezid's.
You only need to do the work that applies to your class. (Not every class, of course!)
Artisan's Epic Notes
[
]
See the artisan epic timeline's main page for full details about the prerequisites, which have changed in the years since the series launched.
When the quest is complete, Danelak will ask you about the Shatterlands beyond. If you chose the the text option about Rivervale, you are directed to go there and look for the next NPC for the next quest in the epic.
As with most quests of this type, Mass Production will not give you multiple updates. You have to actually craft the recipe 10 times each.
Steps
[
]
Craft the requested items (for your class only)

The crafted items do not appear in your inventory when made, but update the quest
Alchemist
Armorer
Carpenter
Jeweler
Provisioner
Sage
Tailor
Weaponsmith
Woodworker

Return to Danelak Hosfoak for the reward
Rewards
[
]
At least

31g

 

73s

 

78c

or

1p

 

35g