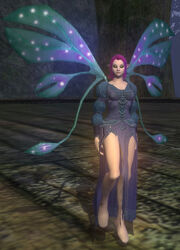 .
What does this information mean?
With the exception of the main tank, the add-chaser, and maybe a roaming healer, all players should stack in a certain spot between a table and a fallen chair. Placed properly, you will not be able to jump. This prevents the knockup effect of Sara's AoE's.
During the fight, Sara will spawn adds (a defiled bloomling?). These adds must be burned down or they will mutate into Epic x4 mobs (20M HP each), which will in turn wipe the raid.
One of Sara's AoE's does damage to power equivalent to what it does to health. Good power regen is essential for this fight.
Community content is available under
CC-BY-SA
unless otherwise noted.