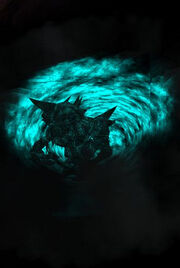 .
What does this information mean?
This mob will always spawn at the head of the pack, in front of the prison cells. With every reset of the encounter, the back two named will select a prison cell to be in front of. Nothing seems click-able before engaging the encounter, and I am unable to hold myself long enough to see if anything does become click-able.
For some reason I cannot recreate this situation, but I had ran up for the first pull, and was attacked by something. I didn't catch it, but my combat log says "a void-touched cephalopod" hat hit me for some low hundreds of crushing damage, then had cast a spell "Venomous Beak", multiple times, again for low hundreds. then I was raped by Rwznak.
Breaching past the mobs, or even attempting to penetrate an unoccupied prison cell (two is guarded out of three) will give a nasty Crushing damage hit. I'm not sure if it's a one-time hit or if it's there to keep you out. I'm guessing you may have to shove all the names in a prison cell, sort of like the masters in The Crucible.
Rwznak is the Fighting Arts, Omzuk is the Master of Divine, Iztak is the Master of the Arcane and Nynzok Master of Stealth. For the Hook, Line, and... Anchor? quest, you have to defeat Yzlak, Master of All Forms. I'm going to take a very educated guess and say that after these guys, Yzlak will spawn, thus making the Crucible Theory to be reasonable, giving to the explanation of their titles, and for the prison cells.
---
How we did it:
Starts off with three mobs, Rwznak, Omzuk and Iztak. However a fourth - Nynzok: Master of Stealth will arrive on pull.
(Casual observations - need confirming) Omzuk - AE heals, more on Rwznak but easy to dps through Iztak - Warlock-type, will place elemental DoT on you that ticks for round 12k Nynzok - Memwipes: assassinates for 18k damage quite frequently. Rwznak - Not sure bout this guy
We burnt Rwznak first, then Iztak, then Nynzok with Omzuk last.
After finishing encounter Yzlak will spawn and attack
NOTE: Came in and burned down Rwznak, Iztak and Omzuk in that order. Nynzok never showed. May have killed them to fast, so could not progress through zone. Will try to kill them slower next time to see what happens. 6/27/2013
Community content is available under
CC-BY-SA
unless otherwise noted.