What does this information mean?
To travel to and from the Enchanted Lands and Wanderlust Fair, use the druid rings in each zone. In the Enchanted Lands, the ring is found east of the docks.
The same method can be used to travel to Greater Faydark, using the spire to the east in the Enchanted Lands.
Speak with Imenand and answer a few preliminary riddles. He will then give you a series of three riddles to test your scholarly prowess...

Q: A gigglegibber found some chain and wishes to use it for a belt. It was three times his height, so he cut it in half. He is one snake tall. How long is his new chain belt?
A: Two times the length from its middle to one end.
Q: A wizard from Gorowyn claims to have an amazing object. He says that this object gets wetter as it dries. What is the item?
A: A towel.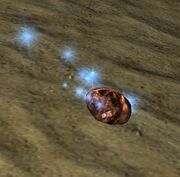 Travel to the Wanderlust Fair in Darklight Wood and retrieve the deck of cards from behind Quild K'Aleate (the General Goods vendor) ( 

271, -20, -17

 ) 

/waypoint 271, -20, -17

They are on a crate behind him.
Return to Imenand.
Travel to the Coldwind Coast Southern Beach in Antonica and retrieve the egg ( 

-723, -38, 862

 ) 

/waypoint -722.50, -37.53, 862.23

.
Return to Imenand.
Travel to the Spire Shadow Outpost, the camp below the spires, in Greater Faydark and retrieve the map ( 

-389, 15, 178

 ) 

/waypoint -389.18, 14.60, 177.97

.
Return to Imenand.
At least

12g

 

82s

 

30c

One of the following:
| | |
| --- | --- |
| | This article refers to events, personae and activities only present in-game during the annual Bristlebane Day celebration, which comes to Norrath each year on and around April 1st. |
Community content is available under
CC-BY-SA
unless otherwise noted.