In-Game Examine Window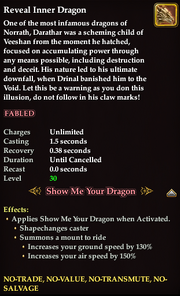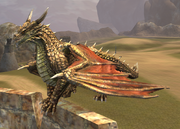 EverQuest II Item Information
Type: Mount
Subtype: Flying Mount

Reveal Inner Dragon

One of the most infamous dragons of Norrath, Darathar was a scheming child of Veeshan from the moment he hatched, focused on accumulating power through any means possible, including destruction and deceit. His nature led to his ultimate downfall, when Drinal banished him to the Void. Let this be a warning as you don this illusion, do not follow in his claw marks!
 
FABLED
ORNATE,  NO-TRADE,  NO-VALUE,  NO-TRANSMUTE,  NO-SALVAGE
Show Me Your Dragon
Charges
Unlimited
Casting
3 seconds
Duration
Until Cancelled
Recast
0.0 seconds
Artisans: Alchemist, Armorer, Carpenter, Jeweler, Provisioner, Sage, Tailor, Weaponsmith, Woodworker
Level
30 (Tier 4)
Effects:

Applies Show Me Your Dragon when Activated.

Shapechanges caster
Summons a mount to ride

Increases your ground speed by 130%
Increases your air speed by 150%




Obtain: Reward from the Achievement "Defend the Spires!"
\aITEM -1749675488 -1526772029:Reveal Inner Dragon\/a \aITEM -1749675488 -1526772029:Reveal Inner Dragon\/a
What does this information mean?
You must travel to all four of the Dragon Attack! locations to defeat the dragons for the 15th Anniversary Event.
This item will appear in the Mount tab of the character sheet (press C).
Drag this item to the mount slot to equip it.
This acts as both an illusion form and a flying mount.
EQ2i credits this article at Census for the info in this article.
the last update on Census for this item was:
Thu, 07 Nov 2019 05:15:50 +0000
Community content is available under
CC-BY-SA
unless otherwise noted.