What does this information mean? This is a limited repeatable quest which can be repeated 5 times
Starting the Quest
Edit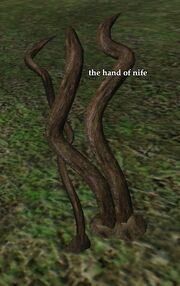 If Surgeon Kweezil is not present in the Hidden Refuge, then you must free him from captivity. See Free the captive surgeon for details.
Harvest 10-15 the hand of nife to get Rodcet Aloe. The quest can be deleted immediately and re-obtained if you wish to have to harvest fewer to complete.

Note: These are unique harvesting nodes found all around the Vultak Scavenging Site island ( -630, 0, -70 ) 

/waypoint -630, 0, -70

. It doesn't take long to find them, but you will have to cope with the vultaks on that island (level 60-62). But if you are VERY careful you can invis up to them and harvest all you need without ever fighting. You might need to make 2-3 rounds of the island.
Note: Occasionally one node may be harvested multiple times, at a max of up to three (3) times.

Return to the Hidden Shelter, and speak to Surgeon Kweezil for your reward.
Community content is available under
CC-BY-SA
unless otherwise noted.