What does this information mean?
I was able to convince Birchbark Oakleaf, an ancient treant rooted deep within the soil of Deadwood Refuge, that repairing the damaged Ulteran Spires is in the best interest of the entire island, including his copse.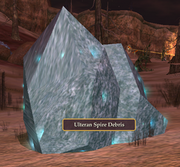 Gather 8 scattered pieces of the broken Ulteran spires.

Click the scattered bluish-grey rocks with sparkling runes.
Slay the corrupted wisp of Growth that appears.
Click the rock again to pick up the debris.

Return to Birchbark Oakleaf.
At least

1p

 

53g

 

9s

13,200 status
Community content is available under
CC-BY-SA
unless otherwise noted.