New Pokemon Games - The Loop
Play Sound
In-Game Examine Window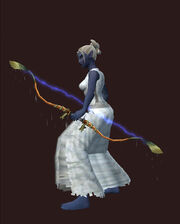 Rain Caller

FABLED
LORE,  NO-TRADE,  NO-VALUE

54 Primary Attributes

52 Stamina


12 Combat Skills
72 Ability Mod

0.8% Crit Bonus
5.8% Damage Per Second
1.4% Crit Chance
1.4% Potency
Storm Arrow
 
Bow
Ranged
Damage
106 - 599     ranged
Delay
9.0 seconds    (78.24 Rating)
Level
57 (Tier 6)
All Scouts, Berserker, Channeler, Guardian, Paladin, Shadowknight
 
Effects:


When Equipped:

On a ranged hit this spell may cast Storm Arrow on target of attack. Lasts for 5.0 seconds. Triggers about 1.8 times per minute.

Stuns target
Inflicts 85 - 157 magic damage on target
Epic targets gain an imminuty to Stun effects of 15.0 seconds and duration is reduced to 1.7 seconds
Cannot be modified except by direct means
Obtain: Reward from the heritage quest, Casualties of the War of the Fay.
What does this information mean?
Notes
[
]
Description on mounted version of the bow: The Rain Caller. Created at the instruction of the mysterious Captain Trueshot, This bow is the favored weapon of the Faydark's Champions of old. This bow was used to slay the lycanthropic Dragoons of Nay'thox and soon after it was stolen by the vampire Huntmaster Viswin. Viswin was soon defeated and the bow was reclaimed by its rightful owner.