New Pokemon Games - The Loop
Play Sound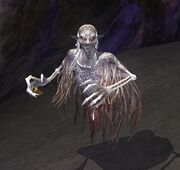 .
What does this information mean?
Strategy
[
]
While Protector Ghondu is alive, Shirinu and Tirini are immune to all damage. Kill Protector Ghondu first.
When the protector dies you have 25 seconds to burn one of the two roekillik.

If both are alive after 25 seconds, 2 copies of Protector Ghondu will respawn, and both roekillik will heal to 100%.

Once the first roekillik is dead, kill Protector Ghondu again, then burn the second roekillik within 25 seconds.

If the second roekillik is still alive after 25 seconds, it will summon another protector and heal to 100%.

Alternativly the rats become attackable when the Protector is low on health so you don't start the 25 second timer.