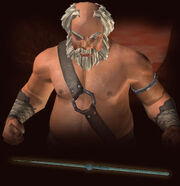 .
What does this information mean?
As with the easy mode Primus Pilus Gunnr, he will summon misty warriors, crusaders and bruisers. Once again they must be tanked by a fighter class of a different type (e.g. a misty crusader must not be tanked by a Paladin or Shadowknight). If the wrong kind of tank or any non-tank class gets aggro, they will kill all players of that archetype in the raid.
Gunnr also casts a curse that, if allowed to expire naturally, will wipe the raid. The curse expires quickly (7 second?). A raid with 7 or 8 healers should have little difficulty keeping ahead of the curses however.
Community content is available under
CC-BY-SA
unless otherwise noted.