What does this information mean?
Notes
[
]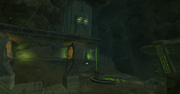 This area is access by aqueducts. From the start:

Jump down and go though the tunnel.
Follow the street to the left and look for the first climbable place on the right.
Go up and to the left, to the aqueduct.
Follow the aqueduct right and at the T intersection go left and then straight.
Jump down into the pool and you are there.