What does this information mean?
"The grobins used shrumbler slime to poison the water in the Amethyst Pond. Sentry Trillis believes that the spores from the small budlings tended by the Shroombas could counteract the slime, and he has asked me to collect some." --Everquest II Journal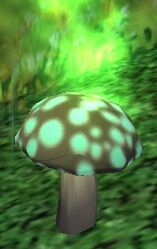 Collect shroomba budlings at the base of trees, mushrooms, and rocks near ( 139, -43, -643 ) 

/waypoint 139, -43, -643

You may need to increase the quality of particles to see the green glow around budlings.

Return to Sentry Trillis
"I was able to collect several Shroomba spores. Sentry Trillis should be able to use them to purify the pond water." --Everquest II Journal
At least

1s

 

16c

One of the following (based on class):
Community content is available under
CC-BY-SA
unless otherwise noted.