In-Game Examine Window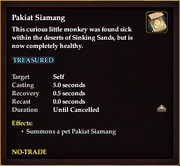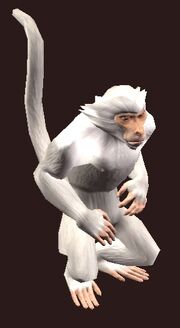 EverQuest II Item Information
Type: Spell Scroll

Pakiat Siamang

This curious little monkey was found sick among the deserts of Sinking Sands, but is now completely healthy.
 
TREASURED
NO-TRADE
Casting
5.0 seconds
Duration
Until Cancelled
Recast
0.0 seconds
Effects:

Summons a pet Pakiat Siamang.




Obtain: Reward from the quest "Seven Tomes and No Sense" in Plane of Magic.
What does this information mean?
When summoned, its title is "<Random name> <owner's name> pakiat siamang"
Hailing this pet causes it to emote. It randomly:

appears angry!
appears hungry.
dances a jig.
flings something in your direction. (after reaching between its legs.)
is scolded.
Community content is available under
CC-BY-SA
unless otherwise noted.