watch 02:43
The Loop (Games)
This NPC gives daily/weekly quests for faction with the Bloody Tooth Clan after you complete Choose the Slug Life.
Note: Similar to the Maldura tradeskill missions, the daily quests can either be done all at once (and will reset in a week), or you can choose to do one quest per day for the old-school crafting experience.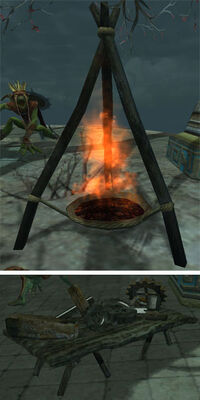 All of the crafting must be done in Twark at either the Goblin Firepit or Goblin Workbench. For this reason, it's necessary to bring stacks of the resources needed to craft all of the items.
Only one type of fuel is needed:
Resources (it's easiest to bring 30-50+ stacks of each of these):
In addition to coin and faction, the primary tradeskill rewards are:
Once a week:
In addition to all of the above, the weekly awards:
Community content is available under
CC-BY-SA
unless otherwise noted.