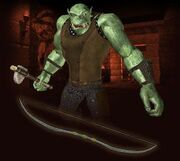 .
What does this information mean?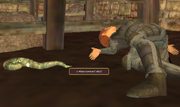 To spawn: collect the vine covered staff next to the dead body in the stable at ( 32, 0, -2 ) 

/waypoint 32, 0, -2

.
Take the staff to The Supplier's Hoard ( 27, 0, 17 ) 

/waypoint 27, 0, 17

storeroom nearby and light it by clicking the lantern outside the door.
Equip the flaming version of the staff in your appearance slot.
Go into the storeroom and click three crates and barrels to set them aflame.
During the fight you will receive a warning notice: "You receive two stacks of supply crates! Destroy the correct stack!" Have your top bag with available slots open. When the crates appear in your bag, each member of the group must right click and destroy one of the stacks. If you don't destroy the correct stack, insta-death. Each stack will have a different quantity, and the correct stack to destroy depends on the spell Onok casts to summon them: if he casts "Over Burdened", then destroy the stack with the most items, and if he casts "Under Burdened", then destroy the stack with the fewest items.
Community content is available under
CC-BY-SA
unless otherwise noted.