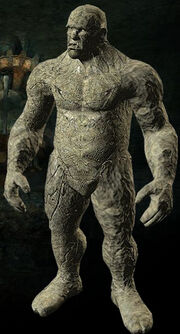 .
EverQuest II Named Monster Information
Zone (Patch)
The Icy Keep (Shattered Lands)
Race
Golem
Level
Scales Solo
Location
The top of the western tower ( 95, 25, -83 ) 

/waypoint 94.59, 24.85, -83.06

 
Reported Drops
Special Attacks

HP drain when damaged with melee attack

AA Exp
yes
Status Points
none
What does this information mean?
He has a 0 - 10% (easy) 0 - 50% HP drain reactive on melee attacks. As the ax from Mission Improbable... does cold damage, you can use it to avoid the reactive.
Community content is available under
CC-BY-SA
unless otherwise noted.