In-Game Examine Window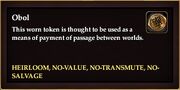 EverQuest II Item Information
Type: Currency

Obol

This worn token is thought to be used as a means of payment of passage between worlds.
 
HEIRLOOM,  NO-VALUE,  NO-TRANSMUTE

Obtain:
\aITEM 956614625 -950389555:Obol\/a \aITEM 956614625 -950389555:Obol\/a
What does this information mean?
This is the common currency for purchasing equipment from Drinal's Steward after completing the Shades of Drinal Timeline. Each purchase requires 10 Obols, 25 platinum pieces, and a rare currency that can drop from any mob related to Chains of Eternity (solo, heroic or raid).
EQ2i credits this article at Census for the info in this article.
the last update on Census for this item was:
Wed, 21 Nov 2018 17:06:22 +0000
Community content is available under
CC-BY-SA
unless otherwise noted.