NOTICE TO ALL ADVENTURERS - The Far Seas Trading Company (FSTC) is seeking adventurers capable of fulfilling orders in Nektulos Forest! Fun, Fame and easy money await you! Flexible hours, on the job training, and a generous compensation package! Apply in person to FSTC Representative Taskmaster D'Zran at the Port Naythex docks in Nektulos Forest! - Text of a handbill found on the floor of the Seafarers Roost in East Freeport.
Starting the Quests
Edit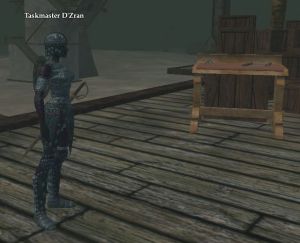 Click on the orders desk next to Taskmaster D'Zran at ( 806, 6, -115 ) 

/waypoint 806, 6, -115

.
Take one or all six. See the details below. Fulfill the terms of the contracts and return the completed orders to D'Zran.
Once you have completed all of the SCOs you will have access to the Special Contracts.
Standard Contract Orders
Edit
Special Contracts
Edit
Once the SCOs are complete, these contracts become available.
This mini-questline no longer gives coin or Far Seas Trading Company Faction (4/27/10)
Community content is available under
CC-BY-SA
unless otherwise noted.