In-Game Examine Window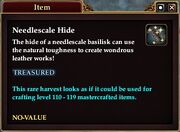 EverQuest II Item Information
Needlescale Hide

The hide of a needlescale basilisk can use the natural toughness to create wondrous leather works!
 
TREASURED
NO-VALUE
Obtain: Harvested from Den Nodes in Chaos Descending zones.
\aITEM -219807332 842926662:Needlescale Hide\/a \aITEM -219807332 842926662:Needlescale Hide\/a
What does this information mean?
Harvest Information
From:
T12 Animal Dens
Type:
Rare
This rare harvest looks as if it could be used for crafting level mastercrafted items.

Node name: basilisk lair
Zones: Vegarlson, the Earthen Badlands; Eryslai, the Kingdom of Wind; Doomfire, the Burning Lands
Used for:
Tailor-crafted level 110 mastercrafted cloth and leather armor from level 110 Advanced Tailor Studies recipes
Alchemist-crafted level 110 mastercrafted potions and poisons from level 110 Advanced Alchemist Studies recipes
EQ2i credits this article at Census for the info in this article.
the last update on Census for this item was:
Wed, 21 Nov 2018 17:09:59 +0000
Community content is available under
CC-BY-SA
unless otherwise noted.