What does this information mean?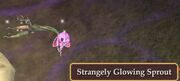 Find and examine 10 more dead flowers.

dead flowers can be found in the area around ( -3425, -761, -177 ) 

/waypoint -3424.52, -761.49, -176.79

and around ( -2964, -752, -76 ) 

/waypoint -2963.69, -751.78, -76.32

When you click on the flower a briarthorn sprout will spawn and attack. Kill it for the update.

Speak to Researcher Alleng
The information below has been verified with in-game data and the information on this page is correct, even if it looks stupid or makes no sense.
---
Fact: This quest is actually called "Need More Information"
Community content is available under
CC-BY-SA
unless otherwise noted.