In-Game Examine Window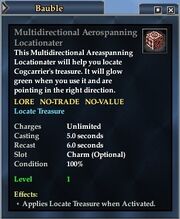 Multidirectional Aerospanning Locationater

LORE,  NO-TRADE,  NO-VALUE
Required by the Quest
'The 999 Year Old Port'
Locate Treasure
 
Charges
Unlimited
Casting
5.0
Recast
6.0
Slot
Charm (Optional)
Level
1 (Tier 1)
 
Effects:


This Multidirectional Areaspanning Locationater will help you locate Cogcarrier's treasure. It will glow green when you use it and are pointing in the right direction.
Obtain: Picked up beside Sparrow Cogcarrier or Heron Cogcarrier
What does this information mean?
Community content is available under
CC-BY-SA
unless otherwise noted.