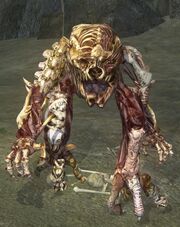 .
What does this information mean?
Spawned by killing one of the following: Fuel of Hatred, Hateful Plate, Skimp the Imp, Trapped Bellhop, or Vilegore. Next, kill Morg, and Horb, in that order.
Activate by sprinkling a heartless corpse with 15 Ire Dust, collected from clickable barrels all around the zone.
Fight in a corner or against a wall, he will knockback when he emotes.
Morghorb is rooted inside a circle that is surrounded by several smaller circles. He appears to be immune to damage unless you're standing inside one of the smaller circles. (Needs to be verified)
Major Power Drain AE called "Despise" or "Morghorb's Despise" hits every 4 seconds.
Community content is available under
CC-BY-SA
unless otherwise noted.