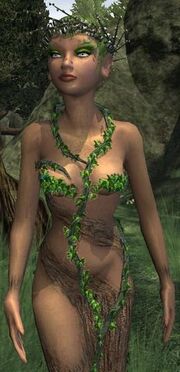 .
EverQuest II Named Monster Information
Zone (Patch)
The Emerald Halls (Echoes of Faydwer)
Race
Dryad
Level
74▲▲▲ Tier 8 Epic x4 , (Approx. HP: 4,900,000)
Location
1st floor, waterfall ( 

-132, -5, -195

 ) 

/waypoint -131.57, -5.19, -195.21

 
Reported Drops
Melee Attacks
Crushing
Spell Attacks
Heat and Magic
Special Attacks

Burning Moon, (AE, Heat DD), 50 sec recast.

Rain of Thistles, (AE, Magic DD), 75 sec recast.

Stormbolt, (Targeted, Magic DD), 180 sec recast.

AA Exp
Yes
Status Points
none
What does this information mean?
Tank and spank mob. Comes with adds that have a total of 880,000 HP.
Community content is available under
CC-BY-SA
unless otherwise noted.