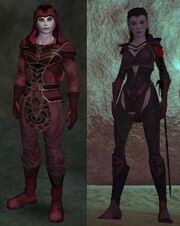 .
What does this information mean?
You may upload a JPG or PNG image of the in-game picture of this mob
All Mistmoore vampires are "named", but only some are truly Named Monsters. The "normal" ones are all redirects to Mistmoore vampire.
Vampires retain the class and skills they had when mortal, hence this page indicates they use all 4 DOT types, but an individual may use one, all or none.
To see a list of the names of all the vampires that redirect to this page, click on What links here.
Killing this monster gives good faction with The Lyrech
Killing this monster gives bad faction with Mistmoore
Community content is available under
CC-BY-SA
unless otherwise noted.