What does this information mean?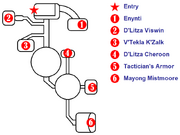 Entrance is in the basement of Castle Mistmoore, through a hidden passage (-71, 0, -17) accessed by rotating a chest at the bottom of the stairs (-52, 0, -13). Reentry timers are based on lockout window. The sanctum chaperones CAN be single pulled, which means no stoneskin destroyers. Have multiple archers shoot the chaperones and they won't come with the gargoyles. It is a good idea, however, to kill the gargoyles at the zone entrance. To single pull the chaperones, you can pull them when they're the furthest away from the gargoyles (missing this spot will bring the gargoyles).
If you go in there for a mayong update , you need to kill the 2 vampires and the tactician's armor.