In-Game Examine Window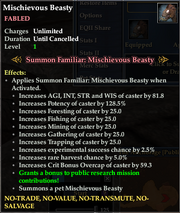 EverQuest II Item Information
Type: Familiar

Mischievous Beasty

If one gives any credence to rumor or conjecture, you'd be led to believe this funny beasty originated in the Plane of Mischief. Incidentally, if you relied on scientific observation and behavioral studies, you'd come to the same conclusion! Event and promo familiars may not be consumed for familiar experience.
 
FABLED
ORNATE,  NO-TRADE,  NO-VALUE
Summon Familiar: Mischievous Beasty
Charges
Unlimited
Casting
2 seconds
Duration
Until Cancelled
Recast
0.0 seconds
Level
1 (Tier 1)
Effects:

Applies Summon Familiar: Mischievous Beasty when Activated.

Increases AGI, INT, STR and WIS of caster by 81.8
Increases Potency of caster by 128.5%
Increases Foresting, Gathering, Fishing, Mining and Trapping of caster by 25.0
Increases experimental success chance by 2.5%
Increases rare harvest chance by 5.0%
Increases Crit Bonus Overcap of caster by 59.3

Grants 10 bonus contribution points to public research missions.

Summons a pet Mischievous Beasty




Obtain: Reward from the quest "Mischief Managed: Duty and the Beast".
\aITEM -1851399556 631742541:Mischievous Beasty\/a \aITEM -1851399556 631742541:Mischievous Beasty\/a
What does this information mean?
EQ2i credits this article at Census for the info in this article.
the last update on Census for this item was:
Wed, 24 Jun 2020 14:50:39 +0000
Community content is available under
CC-BY-SA
unless otherwise noted.