What does this information mean?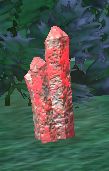 Enter the water to meditate ( -406, 138, -492 ) 

/waypoint -406, 138, -492

.
Return to Gortov.

When you return to his original location, you find that Gorotov has fled!
Search for Gortov on the small island to the west. ( -121, 29, -512 ) 

/waypoint -121, 29, -512

, he will appear when you approach the location, but be careful on landing that you don't go near the named on the island (Voltross the Relic Seeker)!

Confront Gortov.

After a taunt or two, Gortov attacks. Slay him.

Destroy 8 serenity crystals - the ones that you planted on Karak Peak. They respawn quickly.
Return to Jortreva.
Community content is available under
CC-BY-SA
unless otherwise noted.