For other articles with related titles, see Manastone.

In-Game Examine Window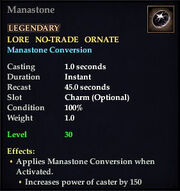 EverQuest II Item Information
Manastone

 
LEGENDARY
LORE,  NO-TRADE,  NO-VALUE,  NO-TRANSMUTE,  NO-SALVAGE
Manastone Conversion
Charges
Unlimited
Casting
1 second
Recast
45 seconds
Level
30 (Tier 4)
Effects:

Applies Manastone Conversion when Activated.

Increases power of caster by 320
Requires 600 Health to cast.



Obtain: Reward from the heritage quest, Stiletto's Orders Intercepted.
\aITEM 111645115 1460681518:Manastone\/a \aITEM 111645115 1460681518:Manastone\/a
What does this information mean?
Examining this equipment, while it is in your inventory and not equipped, gives you the option to turn it into a house item called The Legendary Manastone
EQ2i credits this article at Census for the info in this article.
the last update on Census for this item was:
Tue, 26 Mar 2019 14:32:04 +0000
Community content is available under
CC-BY-SA
unless otherwise noted.