In-Game Examine Window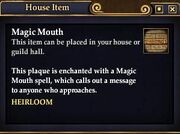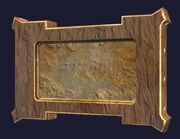 EverQuest II Item Information
Type: House Item

Magic Mouth

This item can be placed in any house type.
 
HEIRLOOM
Effects:

This plaque is enchanted with a Magic Mouth spell, which calls out a message to anyone who approaches.




Obtain:
\aITEM -516246143 -415629126:Magic Mouth\/a \aITEM -516246143 -415629126:Magic Mouth\/a
What does this information mean?
The magic mouth will display a brief message on the screen of players who approach its vicinity. For example, you can use it in your house to tell visitors about the house or in a guild hall to remind members of upcoming events.
Items with identical functions but different styles can also be purchased from the city-themed merchandise vendors during any of the City Festivals held each month. For example, you can buy a version of this item styled to match other Freeport furniture, one to match New Halas and so on.
Community content is available under
CC-BY-SA
unless otherwise noted.