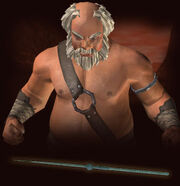 .
What does this information mean?
Tormax comes with a buff that gives him 100% crit bonus and 150% crit avoidance. To dispel this buff, a scout must complete the Tower of Frozen Shadow x2 zone and receive the attack "Demoralizing Swipe". Having at least 4 scouts with the debuff is necessary.
Tormax will spawn two a daiku warmonger periodically throughout the fight. These must be burned down.
Tormax will emote in red and cast an energy field on the battlefield. The raid must get far away from this energy field within a set amount of time. The field will detonate after 10 seconds, hitting anyone still in range with an uncurable viral curse. If you get the curse, stay away from the raid and let it kill you.
Community content is available under
CC-BY-SA
unless otherwise noted.