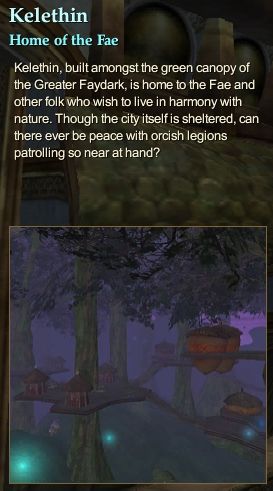 Kelethin is the city of the Fae, hidden high in the trees of the Greater Faydark on Faydwer. It consists of many platforms, interconnected by bridges and ramps, and connected to the ground by three "acorn lifts", which are giant acorns made to float up and down from city to landing zone.
In order to get into the city, players must find an entrance ramp or use one of several Acorn Lifts (elevators).
The ramp at ( 475, 71, 112 ) 

/waypoint 475, 71, 112

is very near the City Festival when it comes to Kelethin.
Players can either use the ramps to move around the various regions in this city or utilize the local, city teleportation pads to quickly reach the several platforms.
Below is the name of the teleport pads (in bold) as they appear on the map, along with pad locations. Some points of interest are beneath each pad name:


First Kelethin Regional Bank at at ( 301, 109, 109 ) /waypoint 301, 109, 109.
Old Kelethin Acorn Lift at ( 46, 96, 23 ) /waypoint 46, 96, 23
Near Residential at ( 447, 92, 169 ) /waypoint 447, 92, 169 (misleading, since it's one many platforms in the area with player housing and the guild hall).
Far Residential Aerie at ( 440, 108, 449 ) /waypoint 440, 108, 449
Jysolin's Pub at ( 119, 112, 398 ) /waypoint 119, 112, 398

This zone has a Globe of Swift Travel when players want to leave, located near the bank at ( 340, 109, 124 ) /waypoint 340, 109, 124 and one by the teleport pad for Near Residential Aerie.
This zone was introduced with the Echoes of Faydwer expansion.
Qeynos and New Halas citizens are welcome here. The merchants will not deal with those on evil alignment (or exiles), but the guards will not attack them, except for the guards around the Royal Court area.
Starting Races
Edit
Timelines
Edit
Housing and the Guild Hall
Edit
Housing in this zone has is similar in appearance to the acorn buildings found throughout both inside and out. For more info on player housing, see Category:Kelethin Housing
This city has a T1 Guild Hall at ( 359, 131, 410 ) 

/waypoint 359, 131, 410

. The hall has the same look as the Qeynos Halls.
Community content is available under
CC-BY-SA
unless otherwise noted.