In-Game Examine Window
Katana of the Hua Mein Warrior

FABLED
ORNATE,  NO-TRADE
Slash of the Hua Mein Warrior
 
Great Sword
Two-Handed Slashing
Damage
29 - 88                  (73.0 Rating)
Delay
1.6 seconds
Level
80 (Tier 9)
All Fighters, All Scouts, Fury, Warden
 
Effects:


Applies Slash of the Hua Mein Warrior when Activated.

Shapechanges the user into a Hua Mein Warrior.
The casting time of Slash of the Hua Mein Warrior is 3.0 seconds and the reuse time of the spell is 10.0 seconds
Obtain: This item can be purchased from Ra'di, a Faction Merchant vendor in The Sundered Frontier
What does this information mean?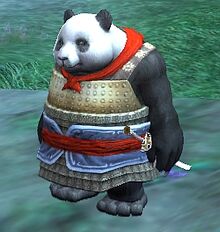 Can ONLY be "Used" being equipped in normal weapon slot, not from appearance slot, nor from inventory.
Weapon must be equipped and "Used" to deactivate illusion.
When Mount is equipped, Illusion will *NOT* appear in zones where Mounts are allowed to display(Prestige Housing(IoR, Snowy Dwelling, MMC), Sundered Frontier, Vesspyr Isles, Moors of Yekesha, Maj'Dul, Sinking Sands, Frostfang Sea, or Qeynos, for examples).
Illusion works with Mount equipped in zones where Mounts are prohibited from displaying(Guild Hall, Standard Housing, etc.).
Item can be unequipped once illusion is in-place.
Community content is available under
CC-BY-SA
unless otherwise noted.