What does this information mean?
This was once a place of ethereal beauty, but now it rots. It lies broken and in disrepair. Nothing is as it was when the Queen reigned here. When she was here the lands were tended, the waters flowed and the grounds were kept pristine. But we have lost sight of that. The sword resides where the heart should be, and grief holds us within its unshakable grip. At times righteous anger flares so hot. Flames on the side of my face –breathing, heaving breaths... I apologize. I almost lost myself within it. I am trying to say Love cannot be left to decay. Will you help to reseed the grounds?
Steps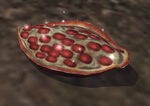 A Ripe Pomegranate
Collect a ripe pomegranate in the Boughs of Tenderness.
Plant the seeds from the pomegranate in the following four locations:

In the Boughs of Tenderness ( 163, 9, -132 ) 

/waypoint 163, 9, -132

.
In the Garden of Lingering Sentiment ( -58, 30, 240 ) 

/waypoint -58, 30, 240

.
On Passion's Lower Portico in the garden area with two trees alongside the stairs ( 4, 18, -181 ) 

/waypoint 4, 18, -181

 .
Near the Swan Stairs ( -47, -9, 53 ) 

/waypoint -47, -9, 53

 
Rewards
Community content is available under
CC-BY-SA
unless otherwise noted.