(11 intermediate revisions by 4 users not shown)
Line 1:
Line 1:
 

{{QuestInformation|

 

{{QuestInformation|

−

timeline = | <!-- Do not include the word Timeline -->

+

timeline = |

−

jcat = Shard of Love: A Moment of Valor| <!-- The category in which this quest appears in your quest journal. -->

+

jcat = Shard of Love: A Moment of Valor|

−

level = 80| <!-- Level in your Quest Journal. Use 'Scales' if scales with level. -->

+

level = Scales

−

diff = Heroic| <!-- Solo, Heroic or Epic -->

+

diff = Heroic|

−

szone = Shard of Love: A Moment of Valor| <!-- The zone in which you receive the quest -->

+

szone = Shard of Love: A Moment of Valor|

−

patch = LU53| <!-- The game release when this quest first appeared -->

+

patch = LU53|

 
+

aaexp = y|

−

aaexp = y| <!-- if not blank, this quest gives Achievement experience -->

 
−

prereq = Shrouded Memories of Love| <!-- The quest you must complete immediately prior to this one, if any. -->

+

prereq = Shrouded Memories of Love|

−

start = Talk to {{NPC|Lanielle}}| <!-- How to start the quest. Talk to someone? Examine something? -->

+

start = Talk to {{NPC|Lanielle}}

 
+

next = |

−

next = | <!-- The quest that immediately follows this one, if any. -->

 
 
+

displaytl=y|

−

displaytl=y| <!-- IF a template exists for this timeline, show it! -->

 
 
+

altname = |

−

altname = | <!-- RARE. Use ONLY if PAGENAME does not EXACTLY match the quest name -->

 
 

}}

 

}}

 
 
 

This was once a place of ethereal beauty, but now it rots. It lies broken and in disrepair. Nothing is as it was when the Queen reigned here. When she was here the lands were tended, the waters flowed and the grounds were kept pristine. But we have lost sight of that. The sword resides where the heart should be, and grief holds us within its unshakable grip. At times righteous anger flares so hot. Flames on the side of my face –breathing, heaving breaths... I apologize. I almost lost myself within it. I am trying to say Love cannot be left to decay. Will you help to reseed the grounds?

 

This was once a place of ethereal beauty, but now it rots. It lies broken and in disrepair. Nothing is as it was when the Queen reigned here. When she was here the lands were tended, the waters flowed and the grounds were kept pristine. But we have lost sight of that. The sword resides where the heart should be, and grief holds us within its unshakable grip. At times righteous anger flares so hot. Flames on the side of my face –breathing, heaving breaths... I apologize. I almost lost myself within it. I am trying to say Love cannot be left to decay. Will you help to reseed the grounds?

 
+
 
+

==Notes==

 
+

If this is your first time going through the Shard of Love, this quest will not be available until after you complete Lanielle's first quest, Shrouded Memories of Love. After you engage the boss in the citadel, the doors are locked behind you. When you defeat him, wait for him to finish his lengthy dialogue and a portal will open up to his right. Exit to the Everfrost docks using that portal, and then reenter the Shard of Love. You can now get this quest from Lanielle.

 
+
 

==Steps==

 

==Steps==

 
⚫
 
 
 
⚫
−

{| style="float: right; border: 0px; padding: 5px; margin: 0 0 1em 1em;" align="right" cellpadding=0 cellspacing=0

 
 
⚫
−

|-

 
 
⚫
⚫
 
 
⚫
−

A Ripe Pomegranate

 
−

|}

 
⚫
 
⚫
 
⚫
 
⚫
 
 

#* On {{POI|Passion's Lower Portico}} in the garden area with two trees alongside the stairs {{Loc|4|18|-181|uid=44356}}.

 

#* On {{POI|Passion's Lower Portico}} in the garden area with two trees alongside the stairs {{Loc|4|18|-181|uid=44356}}.

 

#* Near the {{POI|Swan Stairs}} {{Loc|-47|-9|53|uid=44357}}

 

#* Near the {{POI|Swan Stairs}} {{Loc|-47|-9|53|uid=44357}}
---
Latest revision as of 22:21, 18 February 2012
What does this information mean?
This was once a place of ethereal beauty, but now it rots. It lies broken and in disrepair. Nothing is as it was when the Queen reigned here. When she was here the lands were tended, the waters flowed and the grounds were kept pristine. But we have lost sight of that. The sword resides where the heart should be, and grief holds us within its unshakable grip. At times righteous anger flares so hot. Flames on the side of my face –breathing, heaving breaths... I apologize. I almost lost myself within it. I am trying to say Love cannot be left to decay. Will you help to reseed the grounds?
If this is your first time going through the Shard of Love, this quest will not be available until after you complete Lanielle's first quest, Shrouded Memories of Love. After you engage the boss in the citadel, the doors are locked behind you. When you defeat him, wait for him to finish his lengthy dialogue and a portal will open up to his right. Exit to the Everfrost docks using that portal, and then reenter the Shard of Love. You can now get this quest from Lanielle.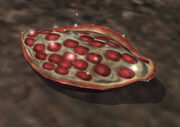 Collect a "perfect" pomegranate in The Boughs of Tenderness.
Plant the seeds from the pomegranate in the following four locations by examining the item in your inventory and selecting "Plant some seeds at this location".
Community content is available under
CC-BY-SA
unless otherwise noted.