In-Game Examine Window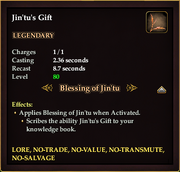 What does this information mean?
I'm not sure whether this item has changed or not. The current status of the item is not the way I remember it though. Here's what it looks like today (click to see full size):
My recollection is that you broke off a piece each time you wanted to travel and you used the 1-charge item to travel. Now you use the base item and the "break off a piece" item gives you the skill permanently. So I guess we no longer need to carry it. Subaltern (talk) 10:24, September 4, 2017 (UTC)
Community content is available under
CC-BY-SA
unless otherwise noted.