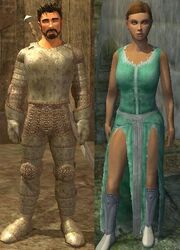 .
What does this information mean?
Jailor Ca'iluer becomes active when you enter his room.
During the fight he periodically he summons Flames of Ca'iluer. (When he does so he emotes that he is summoning the flames of his heritage.) The summon can be interrupted with stuns, stifles, or interrupts. The casting time is very short so you either must be very fast with the interrupts or else have someone who can slow his casting time.
While Ca'iluer is close to a summoned flame, he has a stoneskin and will fairly rapidly regenerate health.
The flames are stationary but you do have to move him a good bit away to avoid the heals, hence the often heard mantra regarding how to defeat this mob: "Keep him moving." He may summon the flames quite often and quickly, so be keep this in mind when developing (if you choose to do so) a mezzing strategy.
Once the jailor is dead, the two prison he paths past before he becomes aggro, become unlockable. There is a tunnel connecting them behind parchment-like paintings, which are clickable to burn them away. Inside you will find a key for the two chained valves up the corridors a bit, and a rock which will update the quest A Sampling.
Community content is available under
CC-BY-SA
unless otherwise noted.