What does this information mean?
The Tinkering skill is NOT required for this quest. You must have done Great Balls of Fire at least 5 times for the questgiver to offer this quest.
Scribe the Tinkered Clockwork Brain Blueprints recipe (Artisan level 2) you receive, and craft five Tinkered Clockwork Brains (Tinkering skill 50).

Each combine requires 1 lead cluster, 2 tin clusters, and 2 Basic Coal. Produces 1-2 brains. There is a broker in the Inn if you came unprepared with materials.
These items can be made by someone without the Tinkering skill (the lowest level complete still produces a brain), although you won't be able to counter any events.
Mass Production does not help but the recipe creates 2 if you complete all four bars and both of those count toward the 5 brains required.

Install five Tinkered Clockwork Brains into Erratic Tinkerfest Clockworks.
After installing the last brain, lead a Cognitive Tinkerfest Clockwork back to Blantsworth Coggington III.
After finishing this quests 5 times total you're able to buy the following title from Myron:
Thoughtful Tips for Top-Notch Tinkerfest Times!
Edit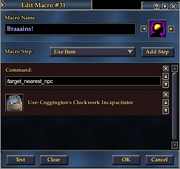 Make a macro for targeting and incapacitating the erratic tinkerfest clockworks. You merely have to be near one, press the button, then right-click to install the new brain.

Press O to open the Macros window.
Find a blank macro slot and click on <click to edit>
Add a Command Step: /target_nearest_npc
Add a Use Item step, then drag the Coggington's Clockwork Incapacitator to it.
Give your macro a title.
Click OK
Drag the new macro to a hotbar for easy access.
| | |
| --- | --- |
| | This article refers to events, personae and activities only accessable in-game during the annual Tinkerfest festivities that occur roughly from the end of July to early August. |
Community content is available under
CC-BY-SA
unless otherwise noted.