New Pokemon Games - The Loop
Play Sound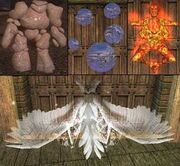 .
EverQuest II Named Monster Information
Zone (Patch)
The Pillars of Flame (Desert of Flames)
Race
Elemental
Level
63▲▲▲ Tier 7 Heroic
Location
in the Giant's area. Go there by entering the giant area, travel inward and cross a small, narrow bridge into a new, closed area. ( 

1212, -57, -561

 ) 

/waypoint 1212, -57, -561

 
Reported Drops
none reported, try LootDB.
Melee Attacks
crushing
Spell Attacks
heat
Special Attacks

Heat-based medium duration stifle

Related Quests
AA Exp
none
Status Points
none
What does this information mean?
2 hour spawn time. NPC before hailed, after talking to him turns into a fire elemental.
Credits
[
]
Splitpaw.Airziso
Splitpaw.Ewil