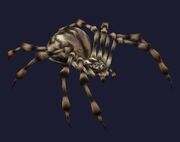 .
What does this information mean?
Strategy
[
]
No special strategy needed for this boss as she does not possess a front swipe or any other positional attack.
The main difficulty is ensuring you do not slide off either the ramp or platform due to the ice.
Be careful running up the ramp to her as this is the only ramp in the early part of the dungeon that is slippery (it is normal to see players running up there and sliding straight into Icefang requiring an alert group to rescue them!