New Pokemon Games - The Loop
Play Sound
What does this information mean?
Notes
[
]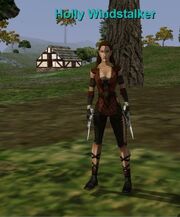 In the days of EverQuest, Holly Windstalker was a human ranger allied with the Protectors of the Pine, the Qeynos-affiliated Rangers guild. She wandered the Qeynos Hills, and became notorious for killing newbies. She would attack anyone she saw fighting an animal, and as a level 27 in a zone generally designed for players of level 10 and under, this generally lead to a very quick death for player-characters.
According to the lore of the game, she was as loved by the citizens of Surefall Glade (a small forest village where Qeynos-aligned rangers and druids lived) as she was hated by players. The citizens of Windstalker Village are the descendants of the Surefall Glade residents.
A grave with her name is located at the top of a hill overlooking Windstalker Village from the northwest ( 

-1855, -3, -624

 ) 

/waypoint -1855.27, -2.76, -624.21

.