What does this information mean?
Description
Edit
"The spirit blooms were more damaged that the Matron expected. I've volunteered to gather the faeicia herbs she needs to heal the spirit blooms." --Everyquest II Journal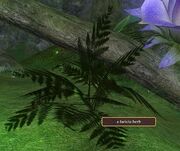 Harvest 4 herbs (a faeicia leaf herb) for the Matron. These are found to the west of The Nursery
Return to the Matron of the Nursery for your reward.
Conclusion
Edit
"The Matron of the Nursery was able to heal the spirit blooms with the faeicia herbs I gathered for her." --Everquest II Journal
At least

2s

 

47c

One of the following, based on class: