For other articles with related titles, see Hammy.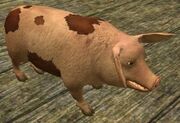 .
EverQuest II Named Monster Information
Zone (Patch)
High Keep (Heroic) (Tears of Veeshan)
Race
Pig
Level
103 Tier 11 Solo
Location
In the southeast corner of the ( -125, -110, 93 ) 

/waypoint -125, -110, 93

 
Reported Drops
none reported, try LootDB.
Melee Attacks
Crushing
Spell Attacks
Noxious
Special Attacks

Deathbed (noxious/disease DOT)
Swine Influenza (noxious/disease power drain)
Hog Stomp (noxious/disease AOE)

AA Exp
unknown
Status Points
unknown
What does this information mean?
Community content is available under
CC-BY-SA
unless otherwise noted.