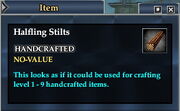 Harvest Information
From:
T1 Bushes
Type:
Common
This looks as if it could be used for crafting level 1 - 9 handcrafted items.
This resource only appears as part of the Bristlebane Day holiday event. It is harvested from Jester's Gardens found throughout Antonica, The Commonlands, Darklight Wood, Timorous Deep, and Greater Faydark.
it is used in the various recipies from the recipe books Perfectly Serious Items to Craft, Perfectly Serious Items to Craft II, and Perfectly Serious Items to Craft III... sold by the Bristlebane Day merchant, who is only available during the Bristlebane Day holiday.
| | |
| --- | --- |
| | This article refers to events, personae and activities only present in-game during the annual Bristlebane Day celebration, which comes to Norrath each year on and around April 1st. |
Community content is available under
CC-BY-SA
unless otherwise noted.