In-Game Examine Window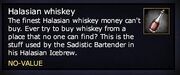 EverQuest II Item Information
Type: Component

Halasian Whiskey

The finest Halasian whiskey money can't buy. Ever try to buy whiskey from a place that no one can't find? This is the stuff used by the Sadistic Bartender in his Halasian Icebrew.
 
NO-VALUE

Obtain: "Harvest" fromn the bar area in The Estate of Unrest.
What does this information mean?
There is in fact a use for the Halasian Whiskey found on the bar in The Estate of Unrest. Accompanied with the Bartending for Sadists recipe book dropped by The Sadistic Bartender, the whiskey can make a very good drink called Halasian Icebrew, providing you have a L70 Provisioner to make it. The Recipe book now has unlimited uses.
You must have gathering skill 340+ to harvest the Halasian Whiskey.
Community content is available under
CC-BY-SA
unless otherwise noted.